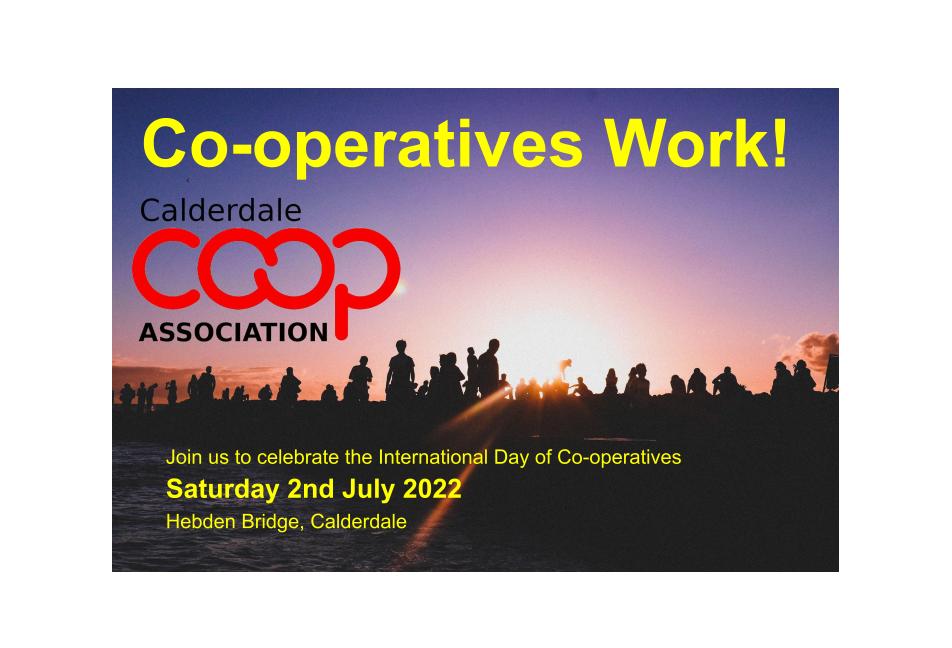 Join us on Saturday 2nd July 2022, on the UN International Day of Co-operatives.
The multi-event day in Hebden Bridge will be a showcase of the past, present and future of co-operation in Calderdale and West Yorkshire.
Current plans for the 3 parts of the day:
Morning | Co-operative heritage walk in the morning. Finishing with a laying of flowers on the graves of local co-operators who helped shape the wider co-op world.
Check out our Facebook Page for details of this free to attend event
---
Afternoon | Conference at Hebden Bridge Town Hall
Exciting speakers will be joining us at Hebden Bridge Town Hall to celebrate our valley's thriving solidarity economy in the context of its co-operative history. We will also be showcasing local co-operatives and exploring exciting possibilities for the future.
Speakers confirmed:
Tracy Brabin | West Yorkshire Mayor
Rose Marley | Chief Executive of Co-operatives UK
David Burch | Senior Researcher Centre for Local Economic Strategies (CLES)
Cllr. Jane Scullion | Calderdale Council
Book your free place at the afternoon conference
---
Evening | Concert at the Hebden Bridge Trades Club featuring the rousing Commoners Choir
£9/£6 Booking via Trades Club – link to follow shortly
---
These events are supported by: